Birds & Butterflies: Painting & Collage
---
_____________
Birds & Butterflies
Collage + Painting
Instructor: Tracie Lyn Huskamp
2-Week Class • 6 Lessons
Class Dates: May 15-25, 2018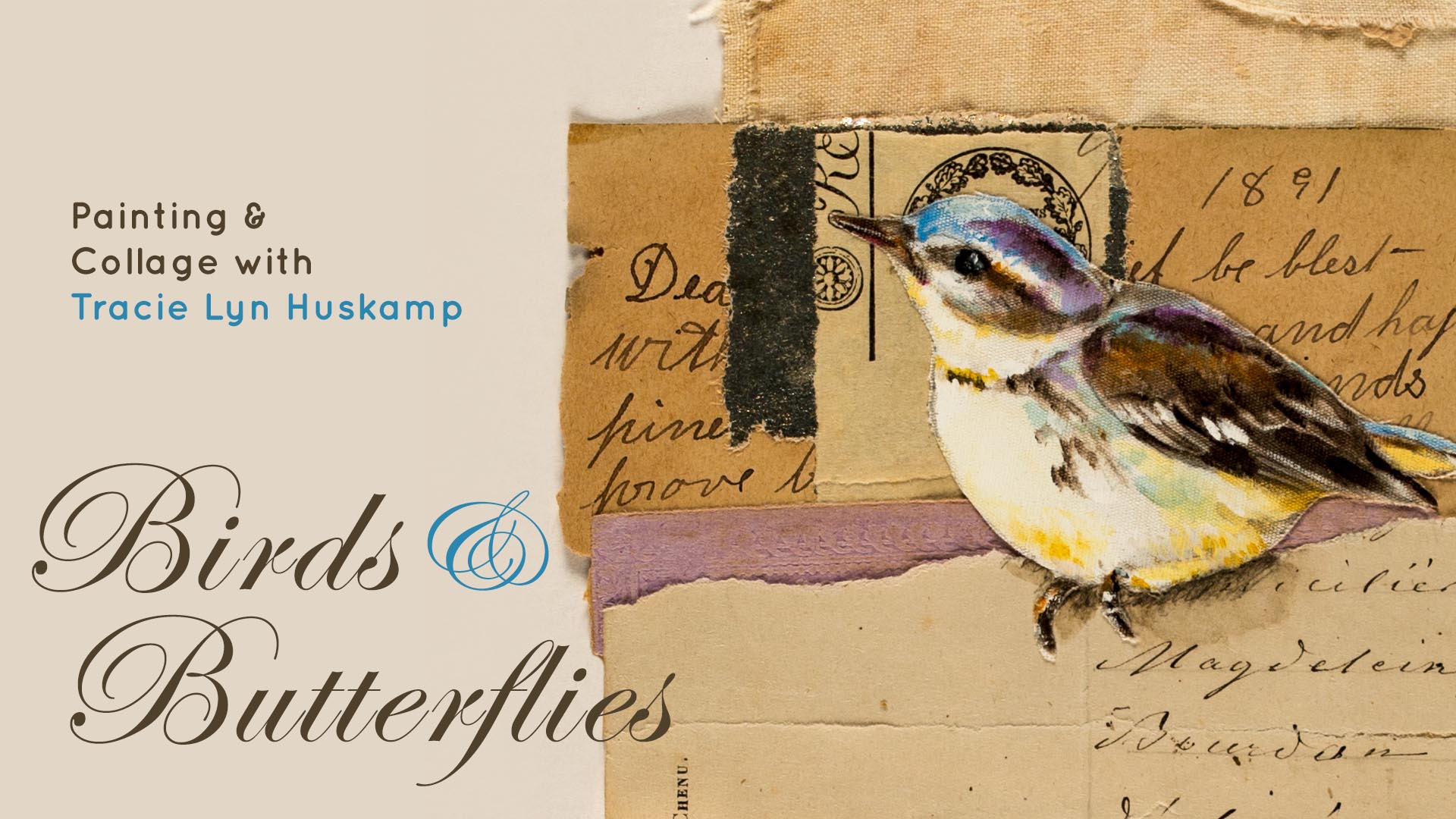 Birds and Butterflies inspire our imagination and capture our hearts!
In this fun, nature-inspired class we will begin by gathering photos of birds and butterflies. Next we'll make acrylic paintings on fabric with a step-by-step technique that makes realism surprisingly simple.
From there we will embellish our realistic butterflies and birds with stenciling, bits of old lace, stitching, buttons, pearls, sequins, beads, or vintage rhinestone jewelry, and then put it all together with found collage ephemera to make intimate, personal, and fun pieces of art. Once we start assembling our collages, the sky's the limit for the different things you can do.
___________
For a list of supplies needed, click HERE.
____________________________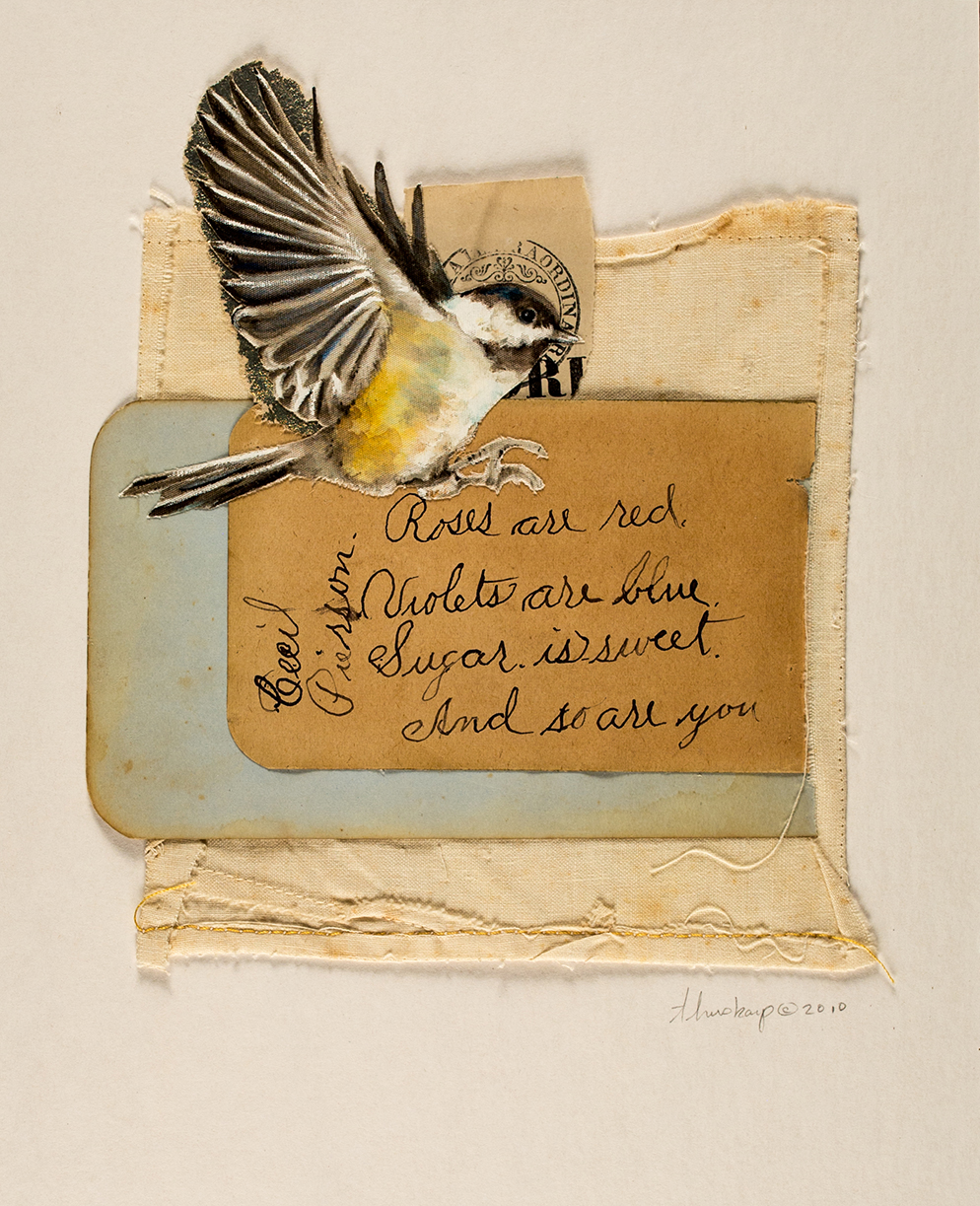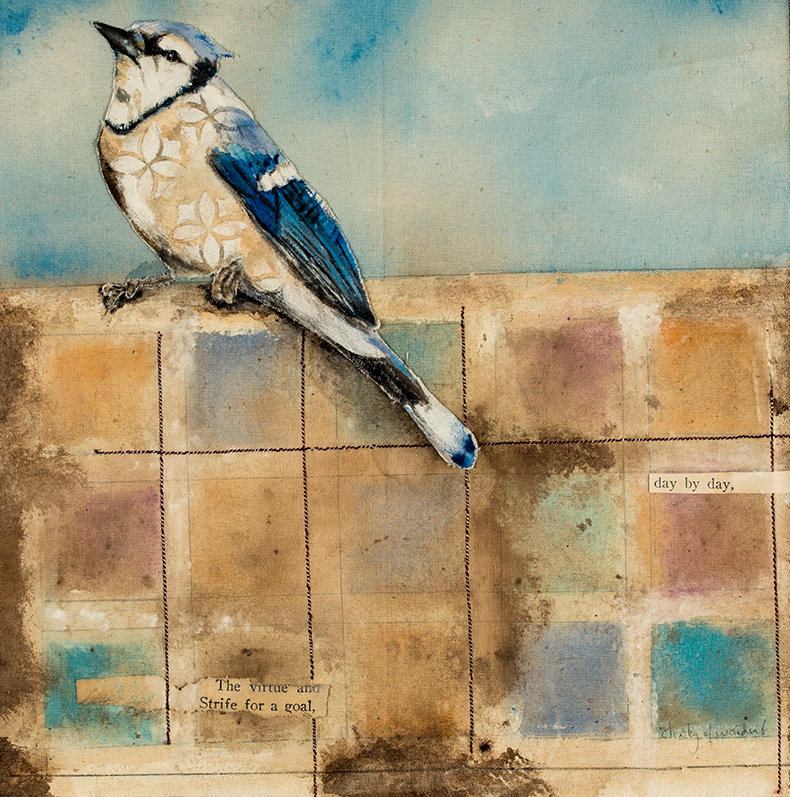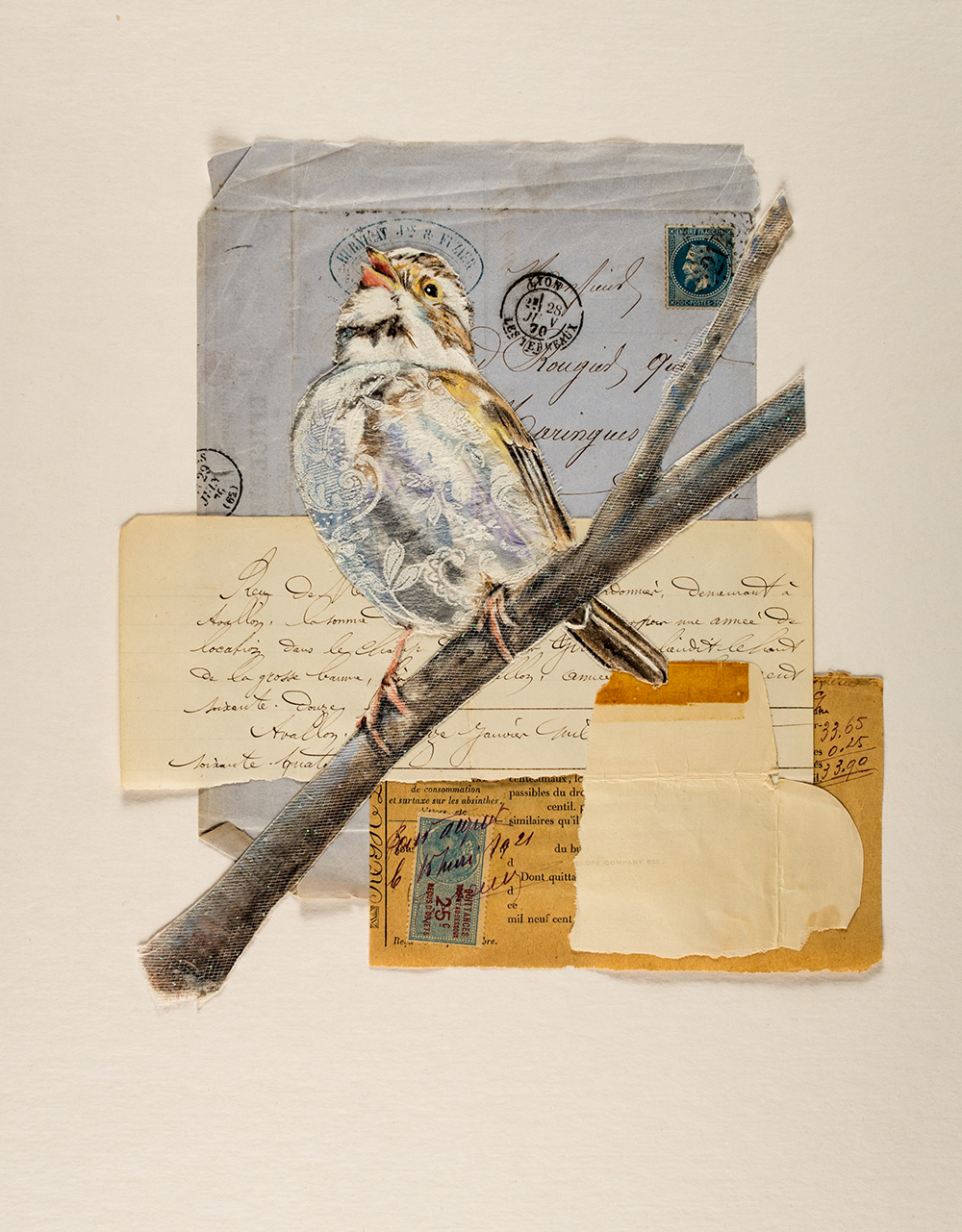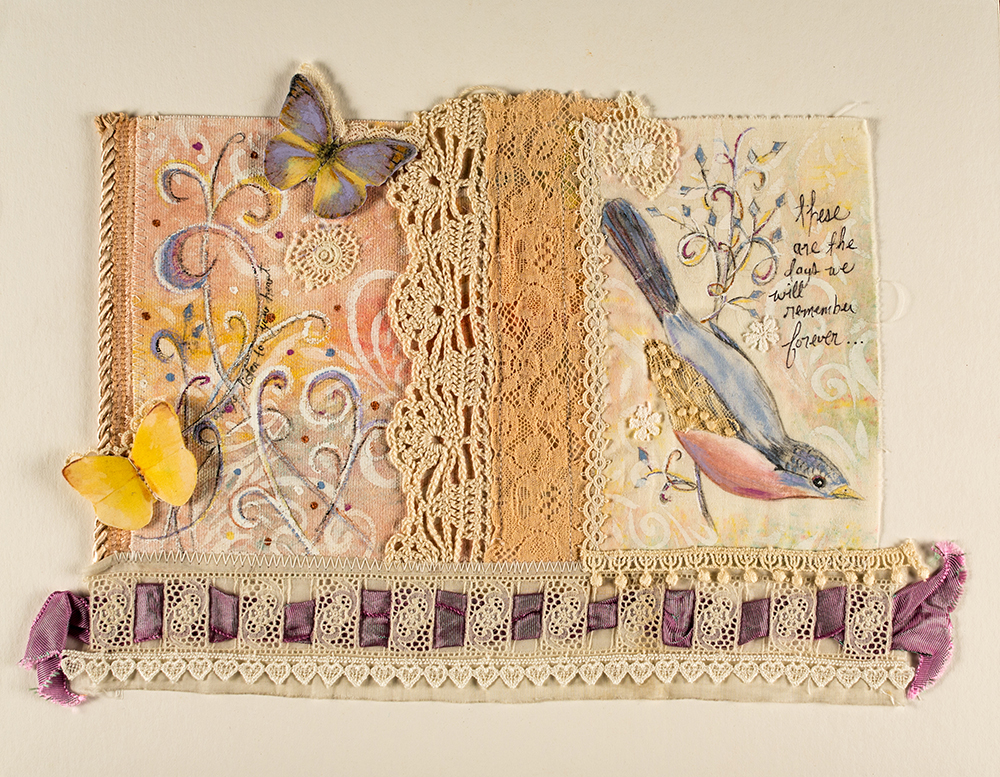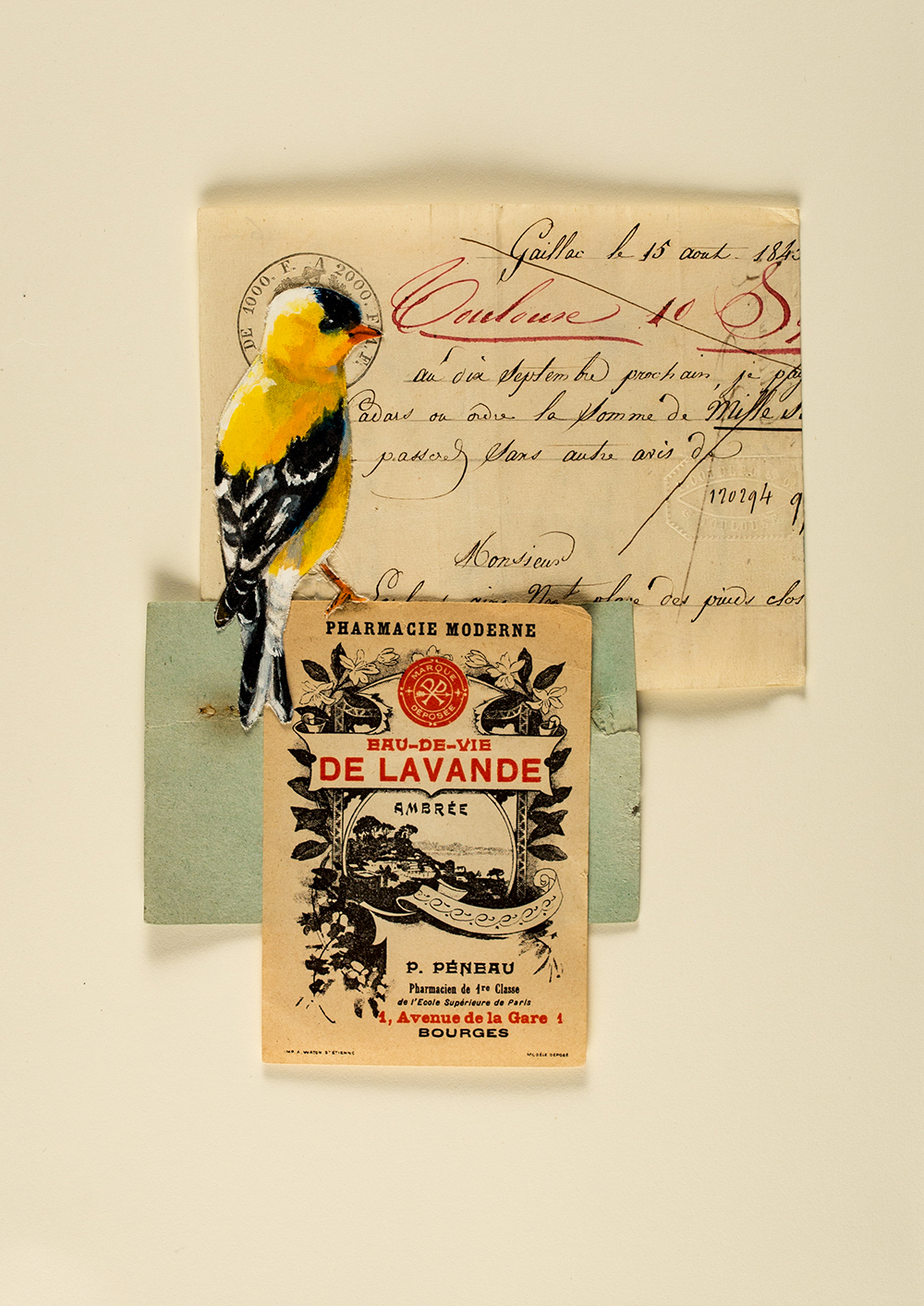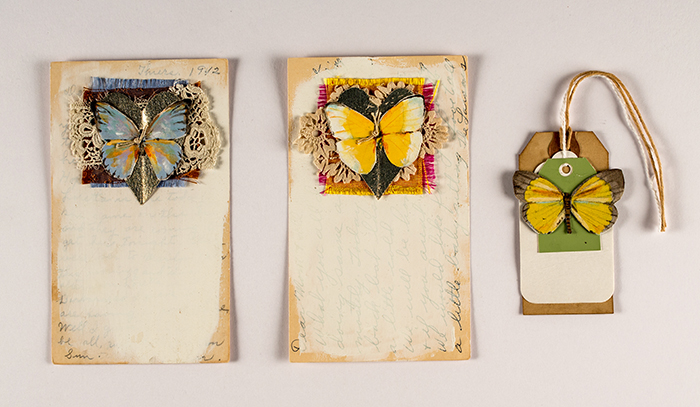 ____________________________
Class Itinerary:
Week 1
Lesson 1: Collect & PrepTo begin, you will need to collect suitable images of two large birds (such as a Blue Jay or Robin), two small birds (such as a Chickadee or Goldfinch or Sparrow), and two butterflies by using your own camera (and/or browsing royalty free image websites); we will alter the images slightly and print them out. Next you will gather your collage ephemera: diverse fragments, approximately 30 different pieces of varying shapes and sizes, to be used to compose finished collage artworks.
Lesson 2: Outlining & SimplifyingYou will begin three paintings today. Using a mechanical pencil, carefully sketch the contour and interior details on the muslin fabric for one large bird, one small bird and one butterfly. (Tracie will demonstrate a quick tracing technique as well.) Once you have your drawing, simplify the subjects into 3-5 large color areas and paint each area with the appropriate color using the dry brush method.
Lesson 3: All In The DetailsIt is time to paint the details of the subjects. Although it might seem difficult, painting is a matter of training the eye to see the range of colors, noting the subtle shifts from one color to the next, and then translating that information to your simplified paintings. You will be using the dry brush method when you want a particular area to be opaque and the transparency/wash method when you want to see multiple layers of paint.
Week 2
Lesson 4: Addition & SubtractionAdd embellishments to your birds and butterfly: stenciling, bits of old lace, stitching, buttons, pearls, sequins, beads, vintage rhinestone jewelry, etc. Then cut the painted subjects out from their original fabric canvases in order to use in your collages.
Lesson 5: Large Scene CollageGather your favorite paper, photographs, and/or fabric fragments. Create a composition using your large bird as the focal point. Consider your use of color, texture and balance. Continue adding, subtracting and moving elements around until the piece is complete. Secure with matte medium.
Lesson 6: Small Scene CollagesDesign two small-scene collages using your smaller bird and butterfly subjects. "Anchor" your bird to one of your collage elements and add a delicate shadow beneath its feet or body.
Sign up today!
__________________________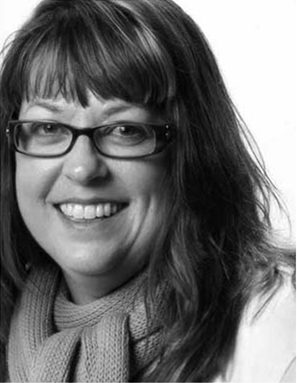 Tracie Lyn Huskamp
holds a B.F.A. in Graphic Design from Wichita State University. After graduation, she worked as a Product Designer/Illustrator creating mass-market products. A number of her designs sold in Wal-Mart, Sam's Club, Costco, Hobby Lobby, Lowe's, and Walgreens. In 2007, she left her corporate position to focus full-time on her own art. In 2009 her book,
Nature Inspired
, was published by Quarry Books. Her work has appeared on the cover of
Somerset Studio Magazine
and in
Somerset Memories, Artful Blogger, Quilting Arts Gifts,
and
Life Images
. Tracie licenses her artworks to manufacturers of fabric, calendars, stencils, scrapbooking, stationery, home goods, and bath. She shows in various galleries and recently participated in an invitation-only exhibit hosted by her hometown, the City of Wichita, Kansas. See more of Tracie's work at
www.thereddoor-studio.blogspot.com
.
____________________________
NUTS & BOLTS
Here's how this online class works:
• During the two weeks of class, you will receive an email each Tuesday, Wednesday and Friday with a reminder to visit the class blog for that day's lesson.
• A password-protected blog dedicated to each class will serve as our clubhouse and where you will find all the class materials as they are uploaded.
• A Facebook group will be created for you to (optionally) share your paintings, and enjoy and learn from the artwork of others. (However, if you are shy about posting your art, Tracie is always available to look at your work via email.)
• The class materials will be up and available for download indefinitely, if for some reason you need to miss a day (or a couple of weeks).
• Upon registration, you will receive an email within 48 hours confirming your sign-up. On the Friday before your session begins, you will receive an email with your class codes.
• Class fee is good for participants living in a single household.
QUESTIONS? carla@carlasonheim.com
Thank you for your interest!